This is the first interview of a new series highlighting the work of scientists and clinicians working in the Diagnosis and Monitoring of Disease Progression Using Deep Neuro Signatures (DNS) clinical trial. The trial is currently enrolling patients at several sites in Greece.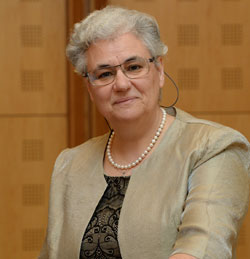 Prof. Magda Tsolaki, MD, PhD, of the Aristotle University of Thessaloniki, is Chairwoman of the Pan-Hellenic Federation of Alzheimer's Disease, which is actively enrolling patients for the DNS study at the sites of Agia Eleni and Panagia Glikofilousa.
We asked a few questions to Prof. Tsolaki to better frame her motivation to take part in the research. We also asked her what gets her excited in future developments of Alzheimer's research. Enjoy the reading!
Prof. Tsolaki, how have you initially heard about the DNS study?
I've known Ioannis Tarnanas [founder of Altoida] for a long time. He was the first one to tell me about the possibility of involving the Federation in the study.
Can you tell us about the role of the Federation in the study? Which sites are currently enrolling patients?
The Greek Federation of Alzheimer's Disease is a panhellenic association which has under its umbrella more than 50 groups all over Greece. Our dream has always been that of joining forces not only to support patients and their caregivers, but also to be involved in the research - so that was our main motivation.
As for the sites involved in the trial, at the moment we have three active centers all here in Thessaloniki. I wish we had more, but unfortunately not all associations' sites have refrigerators that reach -80°C and neurologists willing to do lumbar punctions. We hope in the near future to be able to expand the collaboration to other centers in Greece.
What's your biggest clinical challenge when following a patient with suspected pre-clinical AD?
No doubt that would be to give a precise diagnosis.
How long does it usually take you and your team to arrive at a full AD diagnosis?
About one month with neurological examination and laboratory exams (blood and MRI). If the patient accepts my suggestion to get a lumbar puncture, that helps a lot - then we can have the results back in 15 days.
As a clinician, what treatment or technology has you most excited for the future of AD care?
For diagnostics, I am a big fan of a more widespread use of amyloid PET.
On the treatment side, I strongly support non-pharmacological interventions: exercise, cognitive training and diet. As for drugs, I do hope that, after the FDA approval, lecanemab will arrive in Europe, too.
I am also excited about the clinical trials we are carrying out involving Greek natural products and nutraceuticals, such as extra virgin olive oil, pomegranate seed oil, saffron and mountain tea. I always keep in mind Hippocrates' phrase: "Let food be your medicine and medicine be your food".
What, in your opinion, would best help caregivers to ease the burden of care and tend to their loved ones more effectively?
We do a lot of non-pharmacological interventions targeted to both patients and caregivers - I am a big supporter of those. Additionally, our caregivers attend educational and support programs in different settings. I do think social support is essential.
What's your biggest motivation for working in AD research? Is there any particular clinical, research or care-related project you are trying to achieve or care particularly about?
I am going to make a list of my favorite action areas. Above all, as I said I am a strong supporter of non-pharmacological interventions. A close follow would be clinical trials with natural products/nutraceuticals, followed by international randomized clinical trials with new drugs and diagnostics methods. Last but not least, there is a huge need to expand care services directed at dementia patients and their caregiver by the public health sector.
Thanks for reading - we'll be back next month!